Tree Cutting Waldo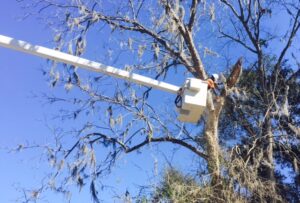 Daughtry Tree Service, LLC provides residential and commercial tree services to the cities and towns in Alachua County, Florida. As in many businesses, experience matters. With over 30 years in the tree care industry, our team will provide dependable and expert tree services at affordable prices. We are experts in local trees, shrubs, bushes as well as the climate in north central Florida, and can handle all your tree service needs.
Our team is responsive and efficient using state-of-the-art equipment to get the job done right. We can help you with the following: tree removal, tree trimming, pruning, shaping, crown reduction, stump grinding, bobcat work, and debris removal. Let our highly trained technicians assist you with damaged or diseased trees or preventative maintenance.
Proper trimming and pruning can improve the health and appearance of your trees. Daughtry Tree Service can trim your residential or commercial trees to extend the life of your trees and give your property a more beautiful and safer look.
Neglected stumps can harm the aesthetic of the land and cause sanitation issues. Daughtry Tree Service will grind your stump to any level above or below ground that you desire. Our team can also remove unsightly yard debris leaving your property in pristine shape.
Florida's weather can be unkind to trees and landscaping. Call Daughtry Tree Service to remove potentially hazardous hanging limbs and weak trees before the next storm hits. Once storm damage has occurred, our team will quickly address all your storm damage clean-up needs using the highest-quality equipment in the business.
Tree Cutting Waldo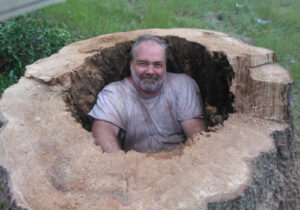 Our philosophy is to treat our customers fairly and honestly. We pride ourselves in going above and beyond to exceed customer expectations. Here is what our customers are saying.
"I had a really tall dead pine tree that needed to come down.  Daughtry Tree Service came out for a free estimate and gave a price on the spot.  They then scheduled me a week later for my tree.  They came on time and did a fantastic job at removing the dead tree.  The crew was really fast and really professional.  After the tree was down, they cleaned up every last bit of debris from my yard and had everything hauled away.  I couldn't be happier with how the job was handled.  Thanks so much!"
"Great work at a very fair price. Skilled workers and exceptional clean-up! Worth every penny!  I will recommend Daughtry Tree Service to family, friends and co-workers.  Great job Guys!  Thank you!"
Get a FREE estimate from the tree service you can trust.
Call Today!
Tree Cutting Waldo